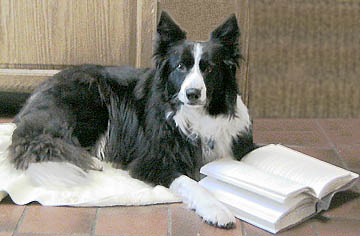 THE SHEPHERD'S DOG
"Without the shepherd's dog, the whole of the open mountainous land in Scotland would not be worth a sixpence. It would require more hands to manage a stock of sheep, gather them from the hills, force them into houses and folds, and drive them to markets, than the profits of the whole stock were capable of maintaining."
--James Hogg, 1824, from The Shepherd's Calendar
BORDER COLLIE BOOKS AND MORE
OLD, ANTIQUE, RARE, AND OUT-OF-PRINT BOOKS
OF INTEREST TO BORDER COLLIE AND SHEEPDOG ENTHUSIASTS
AND OTHER BORDER COLLIE AND SHEEPDOG EPHEMERA
(POST CARDS, PRINTS, ETC.)
---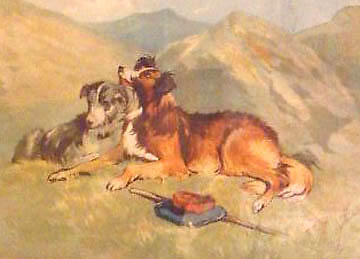 Above, two collies by Frederick Taylor, 1858

WE HAVE MANY OF THE SHEEP, SHEEPDOG AND HERDING BOOKS
THAT YOU HAVE BEEN LOOKING FOR
IF YOU DON'T FIND WHAT YOU WANT,
ASK AND WE WILL ATTEMPT TO GET IT FOR YOU
---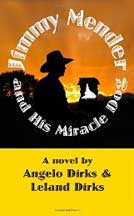 We are very pleased to announce that we have acquired three copies of the new book
Jimmy Mender and His Miracle Dog by Leland Dirks
through the generosity of the author
We will sell each of these books for $15.00 (includes shipping in the USA)
of which $10 will go to New England Border Collie Rescue
a 501(c)(3) nonprofit corporation
working to find homes for stray, abandoned or unwanted Border Collies in New England.
Here is a review of the book:
I just finished reading Leland Dirks book, Jimmy Mender and His Miracle Dog and I enjoyed it. Yes, it's probably about love, but it seems to me it is more about compulsion, obsession. Paul, the protagonist, meets a mysterious stranger and spends a week with him. Certainly long enough to fall in love, and more than enough time to develop an infatuation. When Jimmy Mender leaves, Paul begins to write an advice to the lovelorn column under the title "What Would Jimmy Mender Do?". Although he never really hears from Jimmy again, Paul continues writing his column for five years, and during that period he has recurring dreams that he is a Border Collie searching for something or someone. It is an apt analogy for his obsession. And then he receives a package from Alaska containing Jimmy Mender's diary and a letter from a friend of Jimmy's, saying that Jimmy has died and left all of his possessions to Paul, and that if he came to Alaska he could claim them. Thereafter, Paul begins a quest to follow in Jimmy's footsteps and find out who Jimmy Mender really was.
I won't include spoilers. You'll have to read it yourself to find out what happens on the way to Alaska and at the end of Paul's journey. If some of it seems rather unbelievable, it is. I know Leland did his homework but I wonder if Paul did his before embarking on this journey. The mother in me wants to know how someone can go on a trek to Alaska in a convertible with just penny loafers and one sweater to keep him warm.
---
Below, a shepherd of the Downs and dog, 1840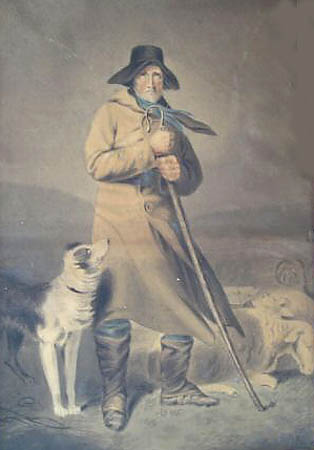 WE WANT TO KNOW WHEN YOU CAN GET A PARTICULAR BOOK
AT A LOWER PRICE ELSEWHERE
JUST LET US KNOW, AND IF WE ARE ABLE
WE WILL MATCH THE PRICE
MOST OF OUR BOOKS ARE PERMANANTLY ON SALE
MANY AT SUBSTANTIAL MARK-DOWNS
SO COME BY AND SEE IF THAT BOOK
YOU HAVE BEEN WANTING
IS NOW AFFORDABLE
Please note:
Due to problems with the postal system during the holiday season
we can no longer ship books within the month prior to Christmas
(November 25th through December 24th).
Therefore, we urge you to order by November 15th
if you hope to have a book by Christmas.
SEE OUR SHEEPDOG BIBLIOGRAPHY
---
HOW TO BUY BOOKS FROM US
Right now we can only accept personal checks or money orders. If you wish to buy a book or books from us, please email us first to make sure we have that book in stock. Please include your zip code, and the book number, title, and author. That way we can tell you if the book is available and the exact amount to add for shipping and handling. You will then send us a check, and we will ship the books to you when the check clears.
WE ALSO BUY BOOKS
Send us a list of the books you want to sell and how much you want for them

CONTACT US AT shepdog@theshepherdsdog.com
tel. 978.649.4348
Checks should be sent to:




THE SHEPHERD'S DOG
51 Farwell Road
Tyngsboro, MA 01879 USA
---
See us on Facebook

---
THE OTHER WEB PAGES WE MAINTAIN


---
These web pages are copyright ©2013 and maintained by webmeistress Carole Presberg
with technical help from webwizard David Presberg
ALL RIGHTS RESERVED
If you are interested in using ANY material on this website, you MUST first ask for permission. You may email us at carole@woolgather.org
---
Last updated July 14, 2013